SMART INTERMODAL SOLUTIONS THAT DELIVER RESULTS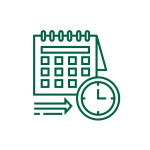 We recently helped a large retailer reduce their transit times from 21 days to 12 days with a creative solution that combined rail service with long haul drayage.
The retailer came to us looking for help.  A tricky cross-town interchange point required them to pull their intermodal cargo off of the train, load it onto a chassis, book a trucker to take it across town, just for it to be loaded back onto another train to continue its journey.  The process was inefficient, time-consuming, and costly.
We analyzed their supply chain and discovered that we could speed up the process by skipping the second rail leg and long haul draying the container to its destination.  This solution saved the retailer on transportation costs and now, their products are delivered 9 days earlier than they were previously.
Dealing with difficult rail interchange points? Need a partner who can help improve your supply chain process?
Contact us today!  Our experts will determine the smartest, most efficient way to get your cargo to its final destination.