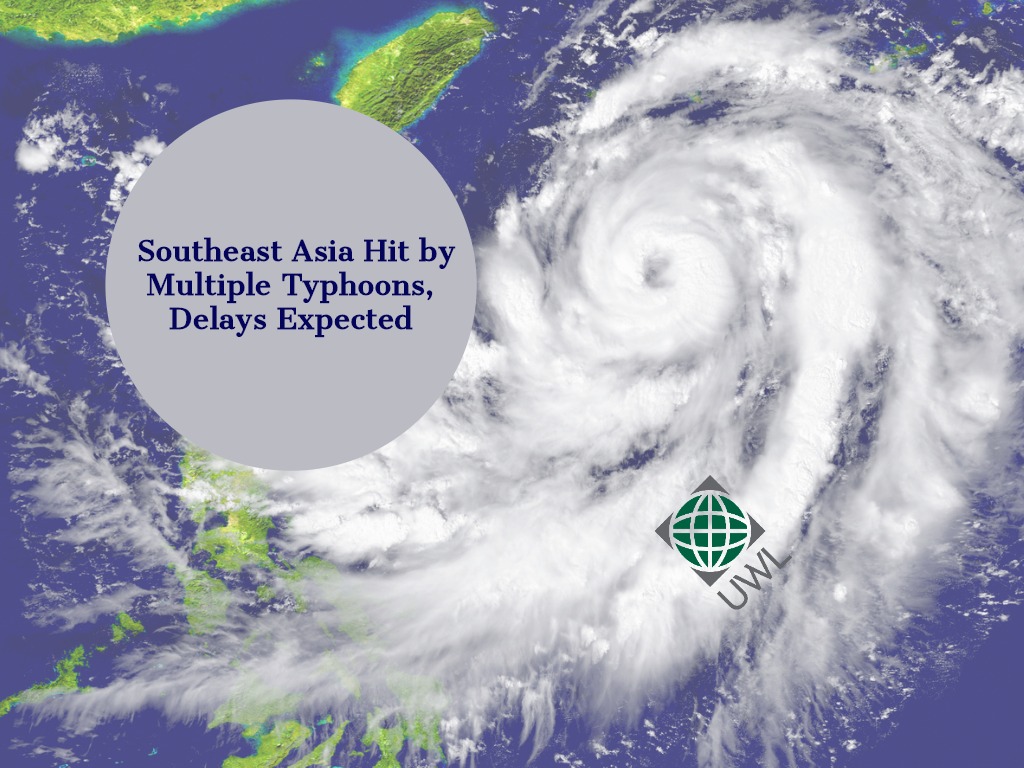 CHINA: Severe Weather Impacts South China Seas
Severe weather and multiple typhoons have impacted port and shipping operations in Asia, primarily in the South China Seas
Shanghai terminal, Ningbo terminal, Hong Kong Modern terminal, Yantian International terminal, Shekou international terminal, Chiwan terminal, and others may close or experience delays.
Some ports have reported suspending the release of empty containers during the severe weather.
Vessels schedules are expected to be delayed anywhere from 12 hours to 9 days.
Heavy rains and thunderstorms have caused severe flooding, road closures, and damaged infrastructure after several typhoons have made landfall in Southeast Asia.  The dangerous conditions have forced thousands of residents to evacuate.
Major carriers including Sinotrans, HLS, Maersk, and CMA-CGM, have issued alerts regarding operational delays.
SINO:
Due to impact of consecutive three typhoons, we received notices from many carriers about the vessel will delay 3-9 days to arrive to Shanghai/Ningbo, and some carriers advised us Shanghai/Ningbo port is too congested, postpone to file AMS time, they will advise the further notice after the vessel call at terminal. Next, the 20th typhoon was generated in the western Pacific Ocean, the bad weather will keep and the bad situation in the terminal won't be better soon.
HLS:
Typhoon issues: Impacted by typhoon recently, South China like Hong Kong Modern terminal, Yantian International terminal, Shekou international terminal, Chiwan terminal, empty containers release service will be suspended. Same situation in Central China like Shanghai and Ningbo, terminals will be closed depends on the weather change. More details pls contact our local office for further checking.
MAERSK:
Typhoon Soulik is heading north by northwest with increasing intensity, with expected landfall sometime on the 22nd to either the South Korea or China coasts. Tropical Storm Cimaron is developing in the northwest Pacific with impact possible in Japan beginning on the 23rd. Tropical Storm Lane has transitioned to hurricane status, and remains in the mid-Pacific heading west, with no vessels impacted.

Please see below for confirmed operational statuses of impacted vessels. Please be advised that vessel delays may be a result of a combination of standard seasonal contingencies and are not solely a result of weather impact – these details are subject to change.
CMA-CGM:
A certain number of typhoons are currently hitting the Asian coastline, and particularly the Chinese territory. They are generating very challenging marine conditions and may hinder port operations. We are doing our utmost to minimize the potential impacts of these disruptions.  However, the evolution of the weather conditions may lead terminals to modify their admission times. Likewise, as our services may undergo some adjustments, we will not fail to keep you informed of all these changes in real time. We thank you for your understanding and remain at your disposal for further information.
We will work to mitigate any shipment disruptions for our customers, and we thank you for your business and continued support.
If you think your shipments may be affected, have any questions related to this announcement, or need assistance, please contact us.
Contact a UWL representative today at 440-356-5353 or connect with an expert.