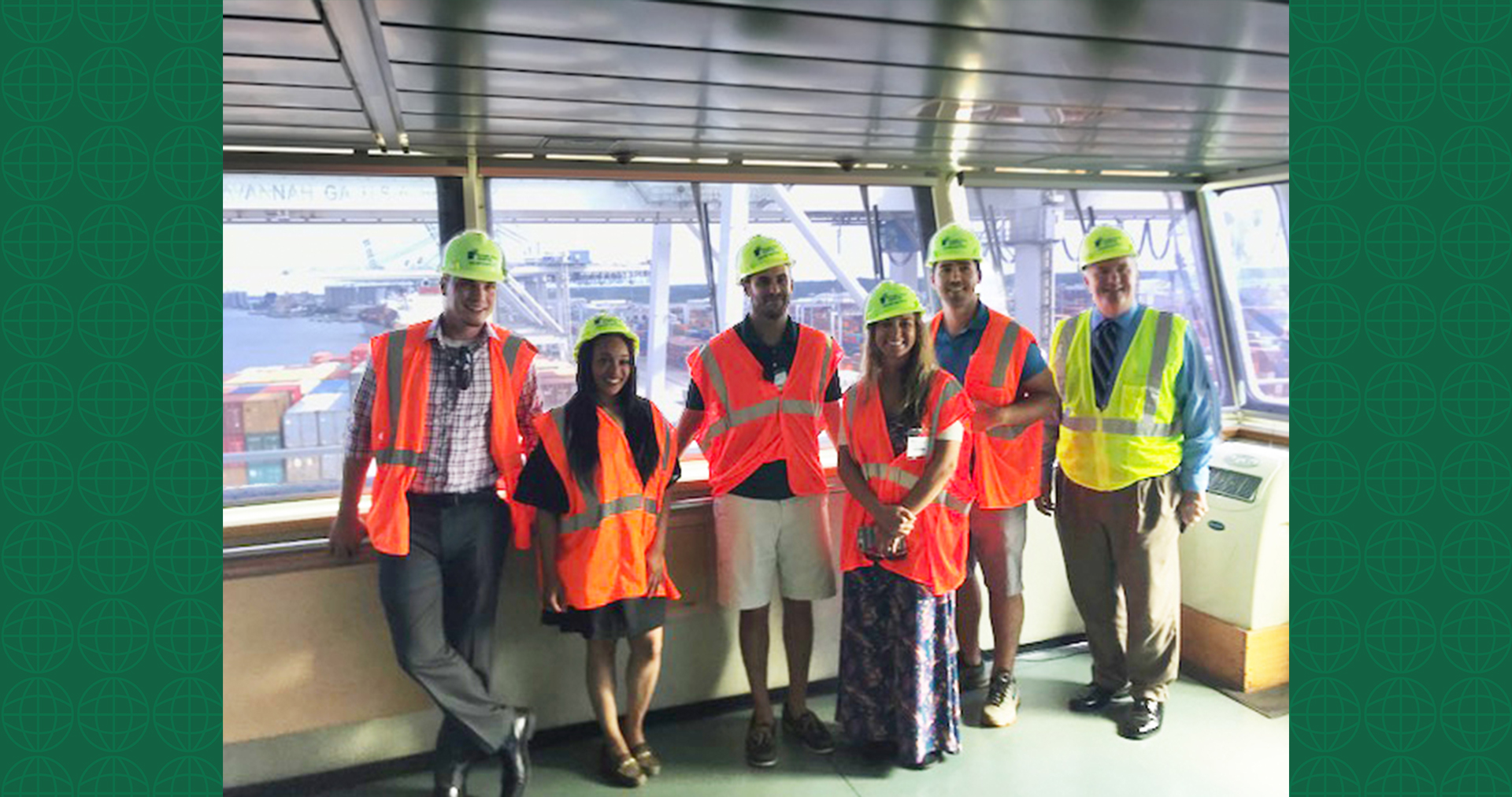 UWL's "Supply Chain Award" Gives Employees a Unique, Behind-The-Scenes Look at Logistics in Savannah, GA
UWL'S SUPPLY CHAIN AWARD GIVES EMPLOYEES A BEHIND-THE-SCENES LOOK AT LOGISTICS IN SAVANNAH
SAVANNAH, GA (July 6th, 2018) – Out of the office and onto a colossal container ship, UWL's quarterly Supply Chain Award sent four employees on the trip of a lifetime to Savannah, GA.  Winners got a rare opportunity to go behind-the-scenes of the Port of Savannah and catch a ride on a gigantic container vessel. They also toured the company's warehousing and trucking operations, where they got hands-on experience with trucks, chassis, and forklifts.
Supply Chain Award Recipients Tour a Steamship
UWL's close relationships with ocean carriers secured the award winners an exclusive tour aboard an 8,000 TEU vessel.
"Being on the ship was unbelievable," said Adrienne Parrish, UWL Export Specialist in Tulsa.
"The whole mechanics of the ship, and how it all runs, from the engine room to loading containers on board, there really aren't any words for how amazing it was to experience."
Parrish was actually the first operational member of UWL's Tulsa office when it opened and has experience covering all modes of transport, both inbound and outbound.  She has been in the industry for over 15 years, but this was her first time ever being on a vessel.
"I really wasn't expecting an entire tour of the ship, but we got to see from the top to bottom. Cargo deck to the propeller shaft," said Celestino "Tino" Nieves, UWL Logistics Coordinator in Cleveland.  Nieves is one of the newer members of UWL's Air Freight department.  He has been an integral part of their growth thanks to his hard work building lasting relationships with many leading airlines.
"The size of the engines, and the way they have to fix broken parts on the spot, there is basically an entire factory on board," Nieves continued, "the crew was from Montenegro and Panama, and they were very inviting."
"The biggest boat I ever rode on was the Put-In-Bay ferry, so this was a huge upgrade!" added Johnny Maiden, UWL Drayage Supervisor in Cleveland.  Maiden spearheaded the company's centralized dispatch system.  He has worked tirelessly to improve dispatch processes and procedures from the ground up.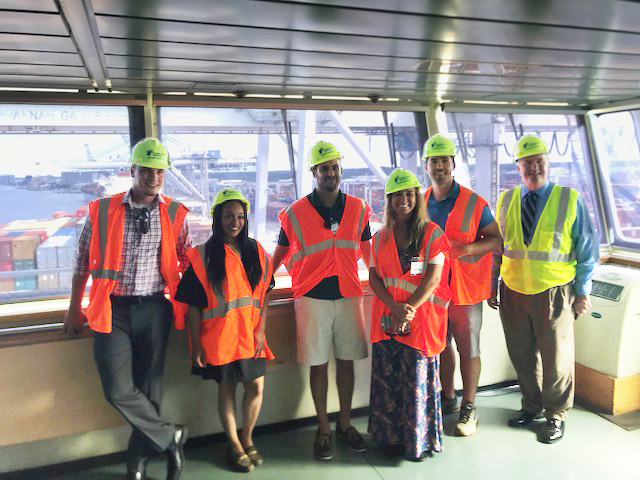 Tour of Georgia Ports: Largest Single-Terminal Container Facility in North America
In addition to seeing the logistics ecosystem firsthand, employees met with key players across different areas of the supply chain.
"One person we met was Bill Barrs. He is the Regional Sales Manager at the Georgia Ports, and he gave a wonderful tour and presentation on the Ports of Savannah," said Latesha Mosley.
"We learned that the Port of Savannah is the second busiest U.S. container exporter and handles nearly 40% of the U.S. containerized poultry exports," said Mosley.  Mosley is a Logistics Coordinator in Norfolk, where she expertly handles logistics for a number of clients with very complex supply chains.
"It was overwhelming, the volume of freight that passes through the Savannah port," Nieves added. "I was unaware that Savannah is the largest single container terminal in North America. I also found it interesting that the Port of Savannah (Georgia Ports Authority), employs 439,000 employees. That is 9% of Georgia's total employment."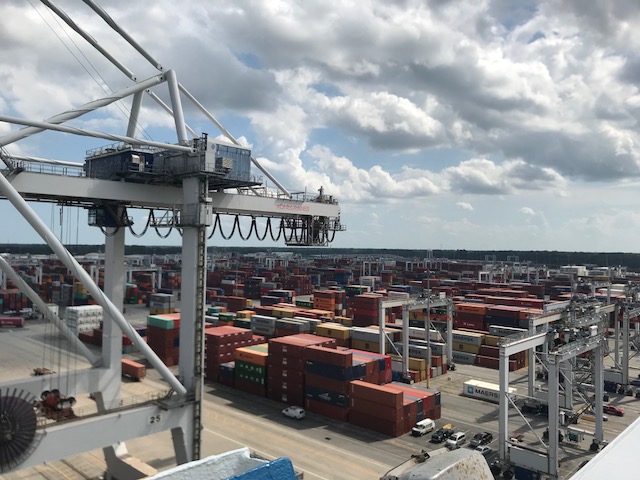 Inside Look Into Warehousing and Trucking Operations
After visiting the port, the Supply Chain Award winners got an inside look into the World Group's warehousing and trucking operations.  The first stop was UWL's newest facility in the network, a brand new, 250,000 sq. ft. Class A warehouse located in just outside of Savannah in Pooler, GA. Employees got to tour the grounds and even drive forklifts!
At a trucking terminal, recipients had the opportunity to drive trucks and inspect chassis. This gave them a unique insight into what truck drivers deal with on a daily basis.
"More than riding in a truck, we took a close look at the equipment used," said Maiden. "Being someone who works on drayage so often, it was extremely helpful to talk to the driver about the chassis."

UWL Supply Chain Award Brings Employees Together
Many employees in the logistics industry work in an office setting.  It is rare for them to actually observe firsthand the movement of goods across the supply chain. UWL sought to change this by creating its "Supply Chain Awards" last year. Each quarter, four high-performing employees are selected to visit locations across UWL's network, which stretches from the US East Coast and into the Gulf.
UWL's Supply Chain Awards bring employees from different regions together, creating lasting bonds while also helping them visualize how their daily work impacts different links in the supply chain.
"Easy to say that the best moments of the trip came with meeting new people and making new friends," said Maiden.
"To me, the most important part of enjoying our work is the people involved. We had a great group and now we have that shared experience to enjoy as long as we work together."
About UWL, Inc.
UWL is a full service, asset-based global 3PL. We are fully licensed and bonded to provide freight forwarding, customs house brokerage, ocean freight (FCL, LCL), air freight, bulk liquid logistics, supply chain visibility, vessel chartering services and project cargo internationally. UWL is headquartered in Cleveland, Ohio at 1340 Depot St. Cleveland, OH 44116.
UWL is a subsidiary of World Shipping Inc., an industry leader since 1960 with over 55 years of market experience dedicated to providing innovative cargo transportation and freight services. The World Group includes World Shipping, Inc., ContainerPort Group, UWL, and World Distribution Services. The World Group provides seamless end-to-end solutions with maximum control of the supply chain.
Media Contact Information:
Kellie Lynch
Email: marketing@worldshipping.com
For career opportunities with UWL click here for more information.