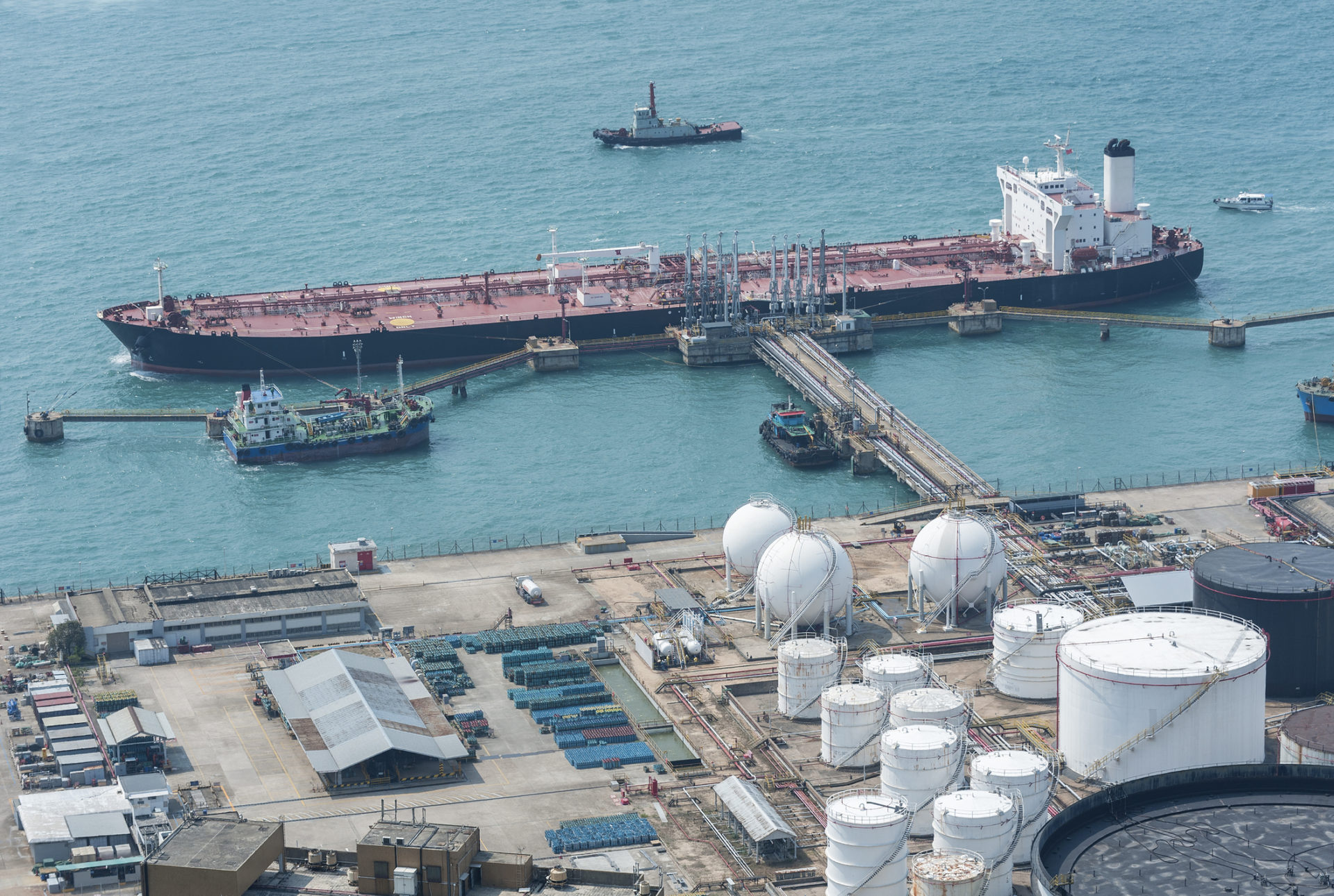 Shipper's Guide to the Latest Emergency Bunker Fuel Surcharges
Shipper's Guide to the Latest Emergency Bunker Fuel Surcharges
What is an emergency bunker surcharge and why are so many carriers announcing them all of a sudden?

Nearly all of the major ocean carriers recently announced that they were rolling out emergency bunker fuel surcharges, which will go into effect by July 2018.  We put together this quick guide to explain what the surcharge is, how much it costs, why it is being announced, and thoughts on the future of the charge.
What is an Emergency Bunker Surcharge (EBS)?
Before we get into what an emergency bunker surcharge is, let's clarify what the word "bunker" means in the logistics world.
The term "bunker" has historical origins which date back to the Industrial Revolution.  Steamships, as the name implies, use the power of steam to travel across the ocean.  The very first steamships produced steam by burning coal, which was stored onboard in a container called a "bunker".
Over the years, the word "bunker" became synonymous with "fuel" and the term has stuck – So when you see the word "bunker", think "fuel".
In laymen's terms, an Emergency Bunker Surcharge is an emergency price increase due to the rising cost of fuel used by the ships that move your cargo.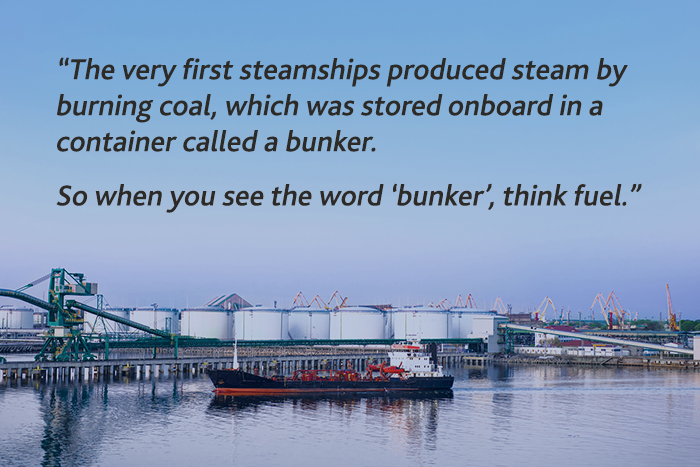 What is the difference between Bunker Adjustment Factor and Emergency Bunker Surcharge?
Present day, most large ocean vessels are powered by varying types of marine fuels and oils.
Oil prices, as you may know, fluctuate rapidly for a number of reasons – everything from weather to politics can influence the price of oil.  (Jones Oil has a great infographic showing why oil prices fluctuate if you want to learn more).
Because fuel is a huge portion of a ship's operating cost, ocean carriers currently do their best to mitigate these price swings with a Bunker Adjustment Factor (BAF) surcharge.

Bunker Adjustment Factor (BAF) is a variable surcharge aligned with the movement oil prices.  This fee is typically separate from the base freight rate and adjusted quarterly.
When oil prices go up, BAF goes up, and when oil prices go down, BAF goes down.
Originally, BAF rates were collectively set by the ocean carriers during liner shipping conferences.  However, liner shipping conferences were banned in 2008  by the European Commission in an effort to prevent collusion, so now individual carriers set their own rates.
Bunker Adjustment Factor is NOT the same as Emergency Bunker Surcharge.

Emergency Bunker Surcharge (EBS) is a last-minute fee that occurs when actual market fuel prices are higher than was originally anticipated by the carriers.
EBS prices vary according to fuel prices.  They can also vary based on the type of container being moved and the trade lane that the freight is moving in.  Carriers may choose to only implement EBSs on certain lanes, whichever are most affected by the increasing cost of fuel.
Shippers generally know ahead of time what the traditional BAF surcharge is because they are updated on a quarterly basis, but emergency bunker surcharges often pop up last-minute and can be a real headache.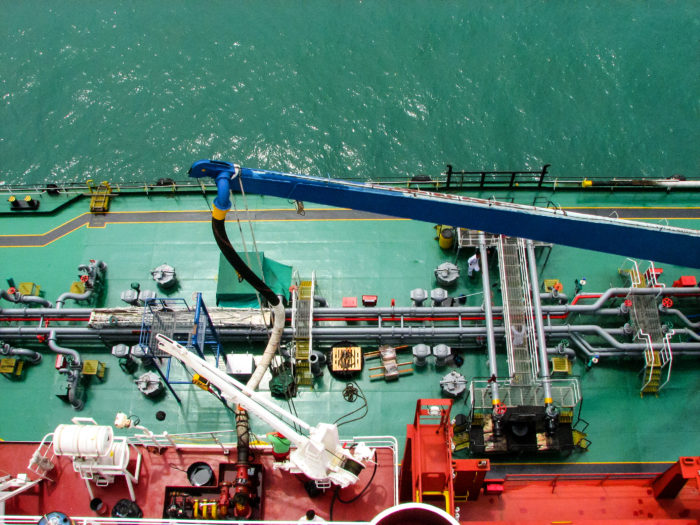 How much do emergency bunker surcharges cost?
Costs vary by cargo and container type and whether the cargo is dry or reefer. Costs also vary by carrier.  The current costs appear to range $50-60 USD for 20' dry containers and $90-180 USD for 40' dry containers.  Reefer costs are higher, ranging from $85-250 USD for 20' containers and $180-250 USD for 40' containers.
See the below list of emergency bunker surcharge announcements by carrier to see the exact charges:
Contracts can prevent carriers from imposing emergency bunker surcharges, but shippers have to be large enough to work directly with carriers to do this.  Large BCOs that contract directly with carriers may have fuel surcharge exemptions in their contracts and will not be affected by these announcements.
Small and medium-sized shippers are the most at risk for these fees currently, but if fuel prices continue to rise, we could see carriers reconsidering the special treatment they give to large volume shippers as well.
Why are carriers announcing Emergency Bunker Surcharges right now?
Carriers are announcing EBSs right now for a number of reasons. The main reasons are high fuel prices, new emissions standards, and declining spot rates.
High Fuel Prices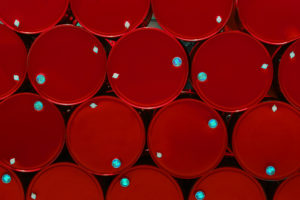 Rising fuel prices are causing issues all across the global supply chain, even leading to strikes and demonstrations in some sectors, like the trucker strikes in Brazil that we saw last month.
The JOC reported that the average price of bunker fuel increased 130% from 2015 to 2017 to about $390/ton in Rotterdam, New York, and Shanghai, while the price of a barrel of crude in the US rose 12.8% in 2017.
Fuel prices are up more than 20-30 percent this year and almost 70 percent since last June.
MSC noted in their EBS announcement, "With crude oil today hovering around $80 a barrel – the highest since 2014 – the situation is no longer sustainable without emergency action."
"The increase in bunker price in 2018 has been significantly higher than what had been expected and has now reached a level of $440 USD/ton in Europe, the highest since 2014. The increase is more than 20% compared to the beginning of 2018 and this unexpected development means that it is no longer possible for us to recover bunker costs through the standard bunker adjustment factors."
New Low-Sulfur Emissions Standards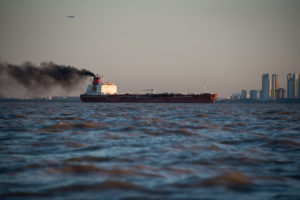 The International Maritime Organization (IMO) announced that on January 1, 2020, there will be a global limit for sulfur in fuel used on board ships of 0.50% m/m.
The goal of the regulation according to IMO is to "significantly reduce the amount of sulfur oxide emanating from ships and should have major health and environmental benefits for the world, particularly for populations living close to ports and coasts."
Ocean carriers fear that the estimated $50bn extra cost of new, environmentally-friendly fuel could force them into bankruptcy.
In fact, MOL's president and chief executive Junichiro Ikeda told the Financial Times, "We're all going to go bust," when the new regulations take effect.
Ship owners will have to decide how to meet the emissions rules.
Some lines, like Maersk and Hapag-Lloyd, have chosen to purchase the costlier, low-emissions fuel.  Others have chosen to use scrubbers to clean emissions from ships.  How carriers pass this cost onto shippers remains to be seen, but will likely include adjustments to BAF in the long term, and possibly more EBS announcements in the short term.
Decline in Spot Rates and Financial Losses

The World Container Index, assessed by Drewry, is a composite of container freight rates on 8 major routes to/from the US, Europe and Asia.  It showed that spot rates are down by 0.9% to $1413.62/40ft container (updated Thursday, 14 June 2018).
Many of the major shipping lines reported first quarter (Q-1) losses, and second-quarter (Q-2) is not looking good either, according to Alphaliner.
Lloyd's List reported that while several carriers have stated they still expect to meet their financial targets for the full year, the chances for a substantial earnings recovery in the coming quarters were rapidly diminishing.
"Rising bunker and vessel charter costs, coupled with weak freight rates and continued supply side pressure from the delivery of new containerships, all weigh down on carriers' margins," said Alphaliner.

"The shipping lines' failure to secure any meaningful rate increases for the Transpacific annual service contracts on 1 May will also limit the carriers' ability to turn their results around for the rest of the year," the analyst reported.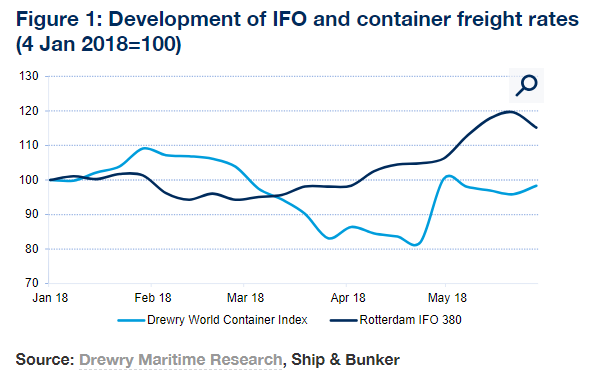 Future of bunker fuel surcharges
There is a long-standing debate over who should carry the financial burden of liner operating costs, like bunker fuel prices.  Do they fall on the shippers or the carriers?  This is leading to the call for a more transparent and long-term solution for emergency bunker surcharges.
Shippers want liners to take more responsibility of these cost increases and have criticized the announcements, saying that they were implemented to cover carrier losses and not fuel.
According to Platts, container industry consultant Lars Jensen argues the surcharges are not appropriate and could make the market less transparent over time.
"The implementations announced now are not logical and seem more to be fueled by a need to do something urgently, than a need to implement a logical structure to the surcharge," Jensen said. "If these surcharges stick, we will be left with the jungle of surcharges becoming more illogical and non-transparent."
Chris Welsh, secretary general of the Global Shippers Forum, said in the latest issue of Drewry's Container Insight Weekly,
"Containership operators need to 'fess-up' by taking responsibility and greater control of their costs rather than announcing vaguely explained short-notice unrecoverable surcharge costs on customers."
While unexpected EBSs may be frustrating to shippers, ocean carriers have no control or influence over fuel costs, and it is fair for them to pass some of that operational cost burden onto their customers.  We hope that the backlash from the recent bunker announcements will put some pressure on the liners to reconsider their pricing strategies and come up with a more transparent solution for all.
Contact Us Today
If you feel that your cargo may be impacted by the recent emergency bunker surcharges, please contact your local UWL sales representative, call us today at 440-356-5353 or connect with an expert via our website.