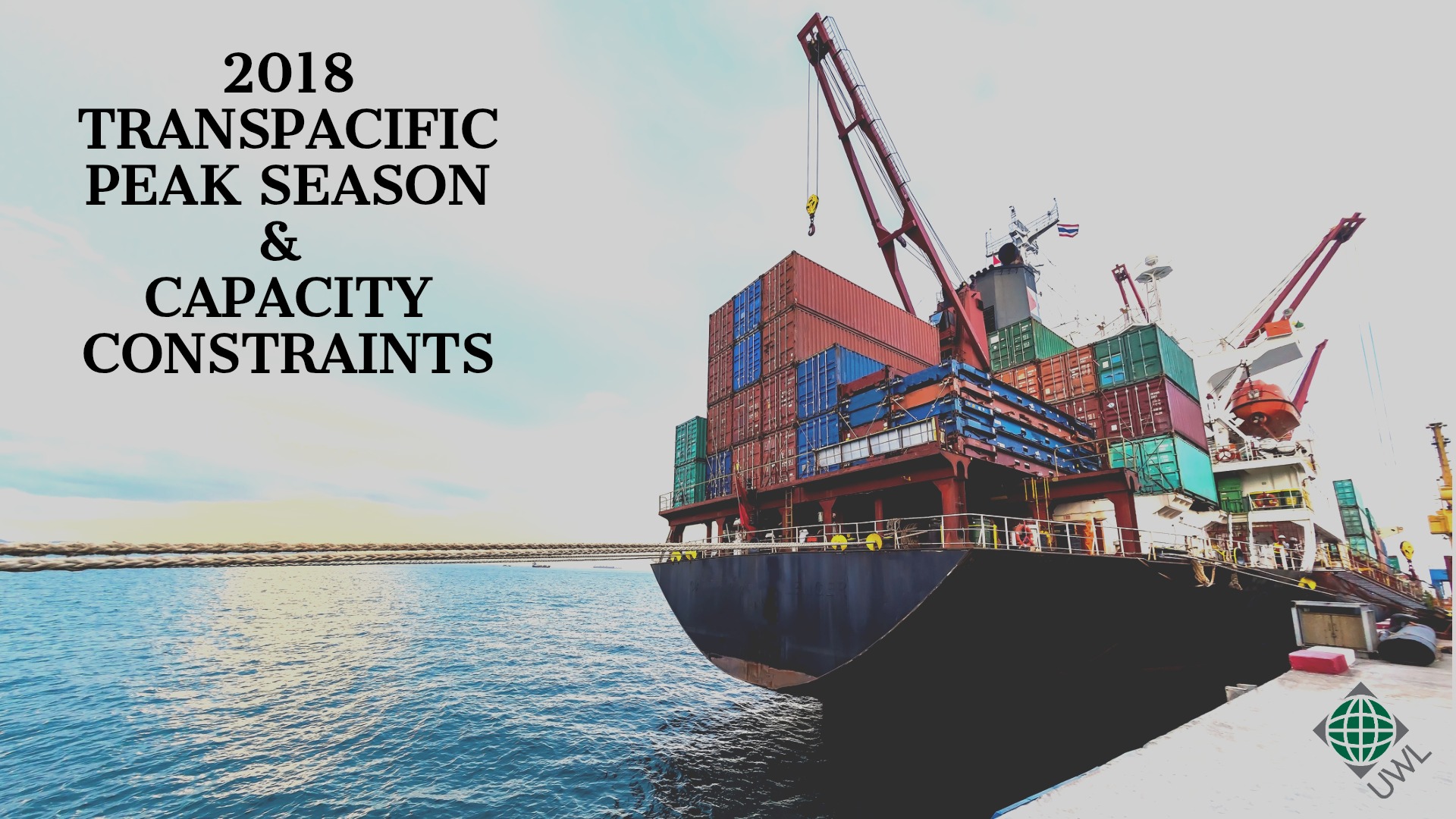 2018 Transpacific Peak Season & Capacity Constraints
2018 Transpacific Peak Season & Capacity Constraints
We are seeing an acceleration of capacity constraints as it relates to the start of the Transpacific Eastbound (TPEB) peak season that will have an immediate impact on your business.
Please note the following highlights:
1. Ocean Carriers
The Alliance and OCEAN Alliance will each remove one Far East - US West Coast string at the end of July and August, respectively, following the 2M carriers' decision to withdraw one of their Transpacific strings at the end of June. Combined, these three Far East - USWC service cancellations will remove a weekly total of 21,300 TEU from the route, or 6.7% of the trade's total capacity to the West Coast.
2. Additional Chinese Import Tariffs Incoming
The fall-out from mounting Sino-US trade tensions is starting to be felt. Manufacturers in China are trying to ship as many of their 2018 purchase orders to avoid further complications from Trump's proposed tariffs that might go up as high as 25% on 200 billion worth of Chinese imports. Most carriers have already received a strong forecast from BCOs and NVOCCs alike which means the August space situation will be critical to both EC and WC lanes.
3. Rate Increases
The increases, in what is considered the first week of the peak shipping season, are attributed to strong US import volumes, capacity reductions being implemented by carriers, and reports of shipments missing the intended voyages (cargo rolling) in Asia. Carrier executives expect this scenario to continue well into the August-October months. Carriers have implemented (EBS) emergency bunker fuel surcharges, (PSS) peak season surcharges, and (GRI) general rate increases on beneficial cargo owners (BCOs) and (NVOs) alike. Those charges are reflected in the steady increase in spot rates that have taken place since early July. Carriers appeared poised to attempt further spot rate hikes in September.
Please be aware that these impacts are immediate and going on right now. The net result of the above is the possibility of delays and additional costs. UWL is doing everything in our power to keep disruptions to a minimum and keep freight moving.
Avoid Delays
Little things, such as consistently providing accurate forecasts up to eight weeks out, tendering actual container loads against confirmed bookings, living up to MQCs, and working closely with your UWL representative can make all the difference when space tightens.
We will keep you updated as conditions improve and appreciate your patience as the industry settles and absorbs these changes.
We thank you for your business and continued support.
If you have any questions related to this announcement or need assistance with transportation, logistics, supply chain management or sourcing, please contact a UWL representative today.
Contact a UWL representative today at 
440-356-5353 or connect with an expert.